Firefly
Firefly Car Hire at Catania Airport
Choose Catania Airport as you starting point for exploring the wonderful island of Sicily and you won't be disappointed. It is the second largest city on Sicily so there is plenty to do there if you want a couple of days before setting out to see the rest of the island. Head south from Catania to visit Syracuse and the archaeological park of Neapolis. Here you will find many Greek and Roman ruins that are quite fascinating. Even further south is Noto. This picturesque baroque town has more than its fair share of stunning palaces including the Porta Reale. If possible head over to the northwest side of the island for Palermo, or southwest to Agrigento.
Firefly are the budget car hire supplier arm of the well known brand of Hertz. The support of a big name company may appeal to many but as their cars are lower priced, due to an older fleet than their sister arm, they can be more keen to sell extra products at the desk. Do be prepared for this if you hire through Firefly. They are a reputable company but as a budget firm they can sometimes have a build up of queues at the desk in peak season.
Firefly offer a variety of extras to customers so that they can tailor their car hire to their requirements. There are various sizes of car seats but please ask for these early as they are only if available. Add Glass and Tyres cover to protect these areas. You can also add snow chains, a GPS or additional drivers to a standard car hire.
Branch Information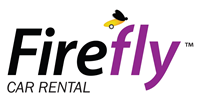 Address
Catania Airport
Aeroporto di Catania-Fontanarossa
Via Fontanarossa
Catania CT
Italy
95121
Opening Times
Mon
08:00
until
Mon
23:59
Tue
08:00
until
Tue
23:59
Wed
08:00
until
Wed
23:59
Thu
08:00
until
Thu
23:59
Fri
08:00
until
Fri
23:59
Sat
08:00
until
Sat
23:59
Sun
08:00
until
Sun
23:59



Out of hours may be possible for an additional charge, please run a quote to check availability.
Details
Firefly is the family focused, budget branch within the Hertz brand, which offers you higher mileage vehicles, but still of good quality. They are the optimal choice for those customers who are looking for a low cost car rental with a big, reputable brand within Italy.
Transfer Details
Exit from the Arrivals Hall, cross the road on the right hand side and wait inside the Hertz parking area at the Firefly bus stop.