Firefly
Gerona Airport with Firefly Car Hire
Gerona is the capital city in the province of the same name. It is written as Gerona in Castilian Spanish and Girona in Catalan which is why you may see both spellings. It is to the north-east of Spain and borders France. It is a wonderful area offering visitors the chance to explore and wide and varied landscape. A hire car means you can make the most of those opportunities. Its coastline boasts beautiful sandy beaches as well as coves to discover. Whether you plan to camp nearby, take advantage of the many walking or cycling routes, or even try your hand at skiing in the Pyrenees, Gerona car hire provides countless chances to see all this region has in store.
Firefly is the only car hire company located in the terminal. When you leave the baggage claim hall just follow the signs. To collect your car, leave the terminal building and cross the street. The signs will direct you to the parking areas for the hire cars. The Firefly cars are parked on level 0.
Firefly are part of the Hertz group. They are aimed at the more budget conscious traveller. As their prices tend to be lower you may find they are keener to sell you their additional products such as their own Super Cover insurance. If you want to avoid the sales patter at the desk you may prefer to steer clear but if you are wanting good value car hire with the backing of a big brand, Firefly could be the company for you.
Their fleet is updated regularly although may not be as new as though found with Hertz itself. There is a wide variety of choice when it comes to vehicle size and class. As well as their extra insurance products, Firefly can also add child car seats, SatNavs and additional drivers to your package.
Branch Information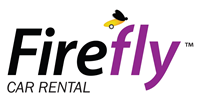 Address
Gerona Airport
Terminal Aeropuerto de Gerona
Province of Girona
17185
Opening Times
Mon
10:00
until
Mon
15:00
Tue
10:00
until
Tue
15:00
Wed
10:00
until
Wed
15:00
Thu
10:00
until
Thu
15:00
Fri
10:00
until
Fri
15:00



Out of hours may be possible for an additional charge, please run a quote to check availability.
Transfer Details
Exit the baggage claim area and follow car rental signage to Firefly counter. It is the only Car rental company inside the terminal.