Firefly
Seville Airport Car Hire with FireFly
Seville is the capital city of the Andalucia region of Spain. The region is famous for its Moorish connections and the elaborate Alcazar castle is well worth a visit. The cathedral in Seville is where you can find Christopher Columbus's tomb. Andalucia is the home of flamenco dancing and Seville has its fair share of Flamenco clubs where you can see this passionate dance in authentic surroundings. Lose yourself in the twisting medieval lanes of the old quarters of the city or take a hire car and some time to enjoy the countryside outside of the city. From Seville you can visit Cadiz or Cordoba easily with a car.
Firefly has its desk within the parking garage at Seville Airport. Leave the terminal building through the glass doors opposite the baggage claim, cross over the street and follow the signs indicating the parking area. When you get to the garage, so straight to the end then turn right where you will find the Firefly office. There is a key box available should you be returning your car out of hours. Please check with the staff about what to do and where to go when returning your car.
Firefly are a budget car hire firm although they are part of the Hertz group. A lower priced option with the backing of a large brand can be very appealing to some customers. However as a budget level car hire company, they may be more persistent when it comes selling their extras especially their own excess reduction package. If you would rather avoid this discussion at the desk, you may wish to choose another option. They do provide other facilities such as child car seats, SatNavs, Mifis and additional drivers which can make your journey that much easier.
Branch Information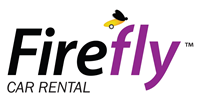 Address
Seville Airport
Aeropuerto de Sevilla
A-4, Km. 532
Sevilla
Spain
41020
Opening Times
Mon
08:00
until
Mon
23:59
Tue
08:00
until
Tue
23:59
Wed
08:00
until
Wed
23:59
Thu
08:00
until
Thu
23:59
Fri
08:00
until
Fri
23:59
Sat
08:00
until
Sat
23:59
Sun
08:00
until
Sun
23:59



Out of hours may be possible for an additional charge, please run a quote to check availability.
Details
Firefly is the family focused, budget branch within the Hertz brand, which offers you higher mileage, but still a good quality fleet. Customers often find that staff can be very persistent to sell their Super Cover and mileage packages at the car hire desk.
Transfer Details
Please proceed to the car hire desk which is located in the covered parking area in front of the terminal building.