Firefly
Firefly Car Hire at Venice Airport
Venice is one of the most visited cities in Italy and can therefore become very busy in peak seasons. The city is built over 100 islands in the Adriatic Sea and is therefore a very unique place to explore, especially as within the city the way to get around is either by boat along the canals or on foot. The Grand Canal is world famous along with the Rialto Bridge, the most widely known crossing. Stop at Piazza San Marco to admire the Basilica or try some of the delicious local seafood. You may have planned to be in Venice for the annual carnival which takes place from the end of the Christian period of Lent and lasts a few weeks. Look out for those magical masks which will be everywhere!
Firefly are a budget supplier in Venice but are part of the same group as Hertz which may provide some with more confidence in them as a brand. They are able to offer car rental at a lower price as the cars tend to be a little older and have usually covered more miles. As a budget brand customers may find there are salespeople at the desk keen to sell additional insurance or extras. If you want a respected brand at a lower price and don't mind possible longer queues at the desk then Firefly may appeal to you. At Venice airport you will need to phone the number on your voucher to let the shuttle bus know you have arrived. The pick up point is out the front of the terminal building.
With Firefly's standard car hire package through Clarify, the main and legal insurances are already included. You can, however, top these up either by adding the Glass and Tyres cover from Firefly, or by taking out independent insurance. If you wish to reserve child car seats, a GPS or snow chains, make sure you do this well in advance of your trip as there may be limited availability. Car rental with Firefly usually is on a fair fuel basis.
Branch Information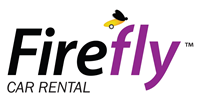 Address
Venezia Airport
Via Orlanda 189/c
Venezia
30173
Opening Times
Mon
08:00
until
Mon
23:59
Tue
08:00
until
Tue
23:59
Wed
08:00
until
Wed
23:59
Thu
08:00
until
Thu
23:59
Fri
08:00
until
Fri
23:59
Sat
08:00
until
Sat
23:59
Sun
08:00
until
Sun
23:59



Out of hours may be possible for an additional charge, please run a quote to check availability.
Details
Firefly is the family focused, budget branch within the Hertz brand, which offers you higher mileage vehicles, but still of good quality. They are the optimal choice for those customers who are looking for a low cost car rental with a big, reputable brand within Italy.
Transfer Details
When you arrive, please call the number for the free shuttle bus service on 0039 340 2163569 to tell to the operator that you are at the airport; then go outside the airport (ground floor) and go to the car park in front of the airport, under the White Tower to wait for the shuttle bus.