Rome Ciampino Airport
Rome Ciampino Airport Car Hire
Rome Ciampino Airport (or to refer to it by its full name as Ciampino–G. B. Pastine International Airport ) is Rome's secondary international airport, serving mainly short-haul routes and destinations across Italy and Europe.
It is closer to the city centre, but not as well connected with regard to transport links. It is very close to the E80, the Roman equivalent to the M25, so offers good links for car hirers to the Italian countryside.
Where are the car hire desks at Rome Ciampino Airport?
Always follow the instructions on your rental documents. It will also depend on where your supplier is situated on the airport.
On airport car hire firms at Rome Ciampino Airport are based either in the terminal or at the car rental centre nearby. This is reached via a shuttle. See the map below for further information.
Where can I collect/drop off the car at Rome Ciampino Airport?
The on airport car hire collection and drop off points are very close to the rental offices.
To return the car hire, enter Rome Ciampino Airport and follow the Car Rental signs.
Rome Ciampino Airport Top Tips
Rome Ciampino Airport leads onto one of the busiest stretches of Italian motorway - do your preparation before you arrive so you know where you are heading. If planning to rent a sat nav take a few minutes to reprogramme it to English before you leave the car park.
You will find that Rome Ciampino is a fairly modest airport and the services there are limited. Given the choice it's an idea to eat before arriving at the airport, as otherwise you will have one rather quirky restaurant and a snack bar near the departure gates to choose between.
---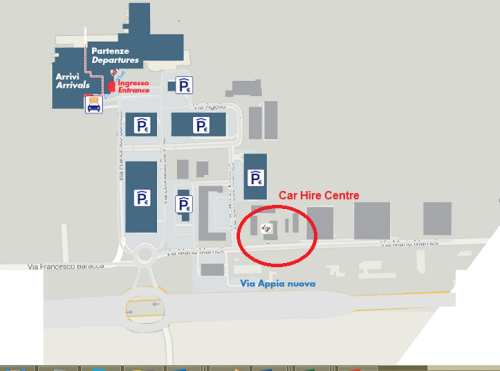 * Currently, the supply of green vehicles tends to be limited. Therefore, cars may not always be available when you search.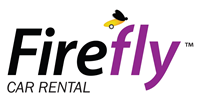 Firefly | Address
Rome Ciampino Airport
Aeroporto Roma Ciampino
Via Appia Nuova
Ciampino, RM
Italy
00040

Centauro | Address
Rome Ciampino Airport
Parkingo Ciampino, Via Luigi Bandini





00043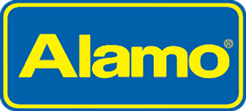 Alamo | Address
Rome Ciampino Airport
Serviced By Enterprise
Aeroporto G B Pastine
Via G Mameli P.8
Ciampino
00043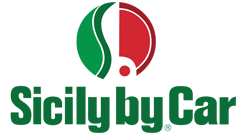 Sicily by Car | Address
Rome Ciampino Airport
Aeroporto Pastine - Desk in Terminal
ROMA
RM
00040

Enterprise | Address
Rome Ciampino Airport
Aeroporto G B Pastine
Via G Mameli P.8
Ciampino
00043