Vancouver Airport
Vancouver Airport Car Hire
Vancouver airport is situated in the south of the city and it is only a twenty minute drive across the bridge into the heart of the city. It is a large modern international airport with flights departing to airports in 108 locations all over the world including London Heathrow, London Gatwick, Manchester and Glasgow. 55 airlines including many of the major international airlines operate flights from Vancouver as well as smaller local airlines too. It is Canada's second busiest airport with over 22 million passengers every year.
Where are the car hire desks at Vancouver Airport?
After you exit the baggage reclaim follow the signs for 'Ground Transportation'. This will take you out the main exit doors and across the road. Once over the road turn immediately right and follow the path as indicated under the covered archway and into the parking garage. You will find the car rental offices immediately in front of you. The cars are also parked in this garage and your representative will indicate the parking space when you pick up your keys.
To return your car, follow the grey overhead signs for 'Car Rental Return' to the car park and park where shown or in one of your rental company's designated spaces. Make sure you have emptied the car of all your personal items before returning the keys to the office.
Vancouver Airport Top Tips
If you are planning a few days in the city before heading off on your road trip, it is very easy to get the shuttle train service into Vancouver. You can then use the same method to get back to the airport to collect your vehicle.

As you might imagine from a large airport, there are countless places to get something to eat or drink- however do bear in mind that they are not open 24hours.

There are many service in the terminals including currency exchanges, pharmacies, medical services and several spas!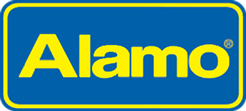 Opening Times
Mon
07:00
until
Mon
23:00
Tue
07:00
until
Tue
23:00
Wed
07:00
until
Wed
23:00
Thu
07:00
until
Thu
23:00
Fri
07:00
until
Fri
23:00
Sat
07:00
until
Sat
23:00
Sun
07:00
until
Sun
23:00
Alamo | Address
Vancouver International Airport
3211 Grant Mcconachie Way
Richmond
BC

V7B 0A4
Details
Alamo Rent A Car is a value-oriented, internationally recognised car hire company, which offers vehicles at a great value rental rate to those visiting Canada. Alamo is the leisure branch of the Enterprise Rent A Car brand and serves the rental needs of airport and downtown travellers, they often top customer service surveys and have a focus on providing a high quality experience. Alamo is a great option for families and those looking for one way rentals in Canada.
Transfer Details
Please note that Alamo's rental counters and cars are conveniently located on-airport at Vancouver International Airport in the airport parking. Arriving from Domestic (within Canada) - Exit the terminal to the parkade across the street and Alamo will be on the left. Arriving from International - exit the terminal to the parkade, stay right on a paved pathway and follow signs to Car Rentals to Alamo on your right. Follow the signs to Alamo and proceed to the counter to obtain your rental agreement and vehicle keys.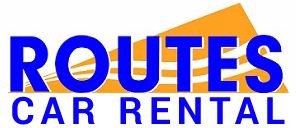 Opening Times
Mon
08:00
until
Mon
19:30
Tue
08:00
until
Tue
19:30
Wed
08:00
until
Wed
19:30
Thu
08:00
until
Thu
19:30
Fri
08:00
until
Fri
19:30
Sat
08:00
until
Sat
19:30
Sun
08:00
until
Sun
19:30
Routes | Address
Vancouver International Airport
8991 Charles Street
Vancouver
BC
V6X0E8
Details
Routes Car Rental are a mid-range car hire firm that operate in both Canada and the US. They have a number of locations at international airports in Canada as well as a downtown office in Surrey, Vancouver. They offer great service and a wide range of vehicles for a good price making them the ideal choice for leisure customers. They do have mileage restrictions for one way rentals so they are more suited to those customers looking to pick up and return at the same location.
Transfer Details
Upon arrival please call 001 604 370 4445 for shuttle bus pick up instructions. Once you have spoken with Routes, exit the Domestic or International Terminal and enter level P1 in the three level car park directly across the street. Follow the car rental shuttle to the far side of the P1 lot to the Economy lot and you will see a glass enclosure labelled 'Routes Car Rental Shuttles' where the Routes shuttle will pick you up. Please show a copy of the rental voucher to the shuttle driver for verification. Should you have any trouble reaching Routes, please call their main headquarters number on 001 866 467 6883.