Zvartnots International Airport Yerevan
Zvartnots International Airport Car Hire
Yerevan is the capital city of Armenia and it is about 12km from Zvartnots airport. Founded in 782BC, Yerevan is in fact one of the world's oldest continuously inhabited cities. It is even older than Rome! It is often referred to as the 'pink city' due to the many rose coloured buildings that line its streets. Take a drive from Yerevan to Aparan and see the monument to the Armenian alphabet created in 2005 to celebrate its 1,600th birthday. Giant letters have been sculpted from stone and they are placed near the burial site of Merop Mashtots the man who conceived the alphabet.
Where are the car hire desks at Yerevan airport?
The car hire desks are conveniently located within the arrivals hall on the 1st floor of the terminal building. There is a separate parking area for Hertz vehicles at Zvartnots airport.
At Zvartnots airport
There are a few restaurants and cafes in the terminal building should you have a wait. There are only a couple of shops so don't expect to buy your last minute gifts there! You will find cash machines and a currency exchange should you require them.
---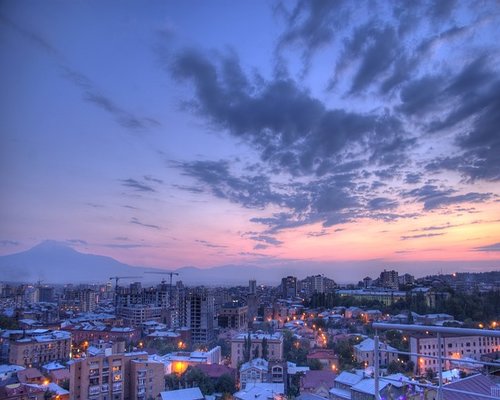 Hertz | Address
Zvartnots International Airport
Zvartnots International Airport