Riga International Airport
Riga International Airport Car Hire
This is the largest airport in the Baltic States and it has more than 100 destinations in its quota of direct flights. Riga is the capital of Latvia and the airport is a less than half hour drive from the city making it very convenient, particularly if you are visiting Riga on business. The airport is served by many major airlines as well as budget ones such as Ryanair and Wizz Air. There are several destinations in the UK including London Stansted, Manchester and Leeds.
Where are the car hire desks at Riga airport?
There are several companies based in E sector of Arrivals. These are easily found by following the car rentals signs as you come through arrivals. There can occasionally during busy periods be queues at the desks. To keep these to a minimum ensure you have all your necessary documents to hand before you reach the desk. These could include your car hire voucher, your driving licence (as well as the licences for any additional drivers) and a credit card with enough limit to take the excess block if you do not intend to buy the excess waiver at the desk.
At Riga Airport
Riga offers its passengers many services at the terminal. If you have time to kill before your flight there are a number of shops selling souvenirs alongside duty free. There are also numerous eateries if you want to fill up rather than rely on food on the flight. Currency can be exchanged at the airport but make sure you have some currency with you when you land just in case. There are many services provided to business customers if they require them including a lounge and an information centre.
---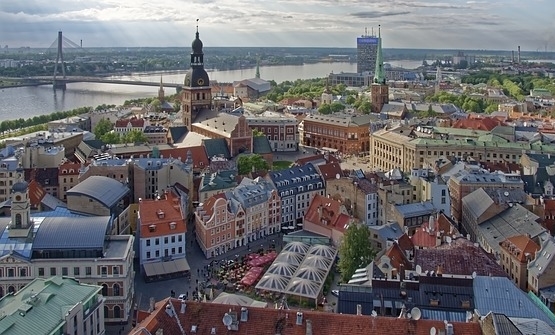 Alamo | Address
RIGA AIRPORT
TERMINAL E ARRIVAL HALL
LIDOSTA RIGA 10/1
MARUPES NOVADS
LV1053

Opening Times
Mon
07:00
until
Mon
23:59
Tue
07:00
until
Tue
23:59
Wed
07:00
until
Wed
23:59
Thu
07:00
until
Thu
23:59
Fri
07:00
until
Fri
23:59
Sat
07:00
until
Sat
23:59
Sun
07:00
until
Sun
23:59
Green Motion | Address
Riga Airport
Riga International Airport
10/1 Riga Airport
Marupe district
Arrival terminal
Latvia



LV 1053
Details
Green Motion Car Rental is a mid-range hire company offering their customers both leisure and business opportunities to experience good value and environmentally-friendly car rentals. Enjoy the lower emissions vehicles they provide all over the world including in Latvia. They are an ideal choice for those wanting a quality car hire from an international brand but who are not too worried about having the latest model of vehicle.
Transfer Details
The rental station is based within arrivals Terminal E, at the car rental station. If you arrive from a EU country, you will find the Green Motion office straight on the left side from the exit door. If you arrive from outside of the EU (Terminal C), you have to exit the Terminal, turn right, walk straight 30m, again turn right and enter Terminal E, where you will find the Green Motion office on the left side from the entrance. If you require any assistance please call 0037 127 069 670 or 0037 127 012 769.

Enterprise | Address
RIGA AIRPORT
TERMINAL E ARRIVAL HALL
LIDOSTA RIGA 10/1
MARUPES NOVADS
LV1053