Norway
Car Hire in Norway from Clarify Car Hire
Why hiring a car in Norway can make your holiday so much better
Norway is a country of incredible contrasts, from summer to winter - the ice blue fiords to the snow cover mountains. And those contrasts are well worth considering when it comes to choosing your rental car. Over the Summer travelling between the main cities and keeping to the major roads a standard economy or compact car will suit most parties well - but if you are planning to head for the hills or are taking a winter break consider a four by four - it will give you far more confidence as you tour this wonderful country.
If you are going in winter you can rest assured that your hire car will be properly equipped for the season - but nonetheless pay attention to the weather forecast and plan your journeys accordingly.
If you can try out one or two of Norway's Scenic Routes - they will take your breath away. By hiring a car you will be able to plan your journey with total flexibility , stopping exactly where and when you want to!
You are not confined to Norway either - almost all car rental companies will allow you to take your car into Sweden, Finland or Denmark without the need for extra paperwork or fees. Perfect if you are chasing those elusive northern lights!
Where to hire a car in Norway
Most inbound tourists land in Olso - and as such almost half of car rentals to such travellers are from one of the capitals airports. Bergan and Stavanger are also popular destinations.
Useful Tips when driving your Hire Car in Norway
Speed limits in Norway are generally lower than in many countries
(When driving a standard passenger car)
On Motorways 55 mph (90km/h), 62 mph (100km) or 68 mph (110 km/h).
If you are outside built-up areas 49 mph (80 km/h)
In built-up areas 31 mph (50 km/h) Built-up areas 31 mph (50 km/h)
In some residential areas speed limits can be lower - down to 18 mph (30km/h)
Seat belts Rules
Both front and rear seat drivers and passengers must wear seat belts.
Any children under 1.35m tall must use an appropriate child restraint - these can be hired from your car rental company.
If fitted airbags must be deactivated wherever children are in a rear-facing child restraint.
A booster seat and adult seat belt should be used if a child is between 1.35 and 1.5m tall Norway (Northern Europe)
Lights
You must use dipped headlights throughout he day.
Drinking and driving
The legal limit is 20 milligrams of alcohol per 100 millilitres of blood - that is a quarter of the current UK limit.
Very heavy penalties are levied and include heavy fines and/or prison together with the and the confiscation of your driving licence.
Breath tests and drug swipes are carried out on a rando basis.
Fines
On-the-spot fines can be imposed.
Illegal parking could result in your car being towed.
Ensure the following is supplied in your hire car - its compulsory to carry them.
A warning triangle
Winter equipment – Winter tyres or snow chains must be used if there is snow or ice covering the roads.
Reflective jackets – for use if you or your passengers need to exit a vehicle after a breakdown on the carriageway on the motorway or and main road.
---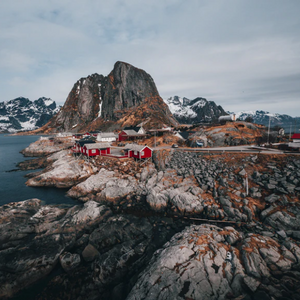 Car Hire Destinations in Norway
* Currently, the supply of green vehicles tends to be limited. Therefore, cars may not always be available when you search.