Car Hire with an Additional Driver included
Car Hire with an Additional Driver included
Looking for Car Hire with a Free Additional Driver included
So you want to hire a car and you want to share the driving?
It makes sense as it can make for a more relaxed trip, and both drivers can use the car at different times over the rental period.
However using a car hire comparison site can be a misleading way of finding the best places to find the costs of a car hire deal which allows more than one driver to get behind the wheel.
Some websites advertise process which include a free additional driver - so far so good - but if that car hire company has a higher base price for the car itself you might find that you are better off booking with another company and paying for an additional driver.
Well now there is an answer. With Clarify Car Hire we offer the best of both worlds. By using our unique and exclusive filter you can ask for prices with one, two even three additional drivers included. We will then show prices for the car and the extra drivers and show you the best deal whether the additional driver is free or paid for.
Do you just go with a company which offers a free extra driver - without really knowing if their over all cost is better than hiring another car and paying for the additional driver separately?
Additional Driver Prices added to every Car Hire Price - Automatically or with just One Click
If you request your car hire through this page one extra driver will be added automatically. If you want more - don't worry that is simple too. You can add more extra drivers by requesting them at the top of the page.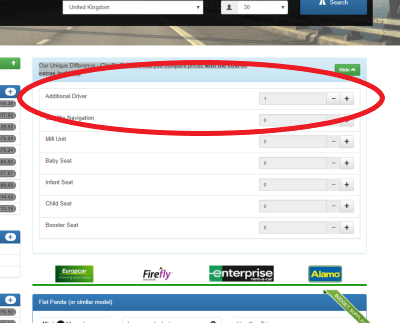 We will simply add the cost to every car displayed - so you can seen which deal is the best for your.
Its simple, easy and quick - and is by far the best way to get additional drivers included in your rental.