Find the Best Car Hire Deals at Clarify
Find the Best Car Hire Deals at Clarify
Why consider Best Car Hire and how does it work?
Finding the best car rental package for your trip will depend on your specific circumstances, but Clarify Car Hire can make your search for perfection a breeze!
Have a glance at our best car hire video below - it's a great summary of things you may wish to consider when booking your car, and how you can tailor your rental to your holiday.
Best Car Hire - what to consider when booking your rental vehicle
If you are using Clarify to help in your search for the best car hire we recommend the following approach:
A. Run a quote popping your details in above - you might want to open this page in a new window as well - so you can refer back to it.
B. First of all consider if you want to add extras, such as additional drivers, Child Seats or GPS devices. These can really help in ensuring you know the full price of your hire up front, and also let you comparing the inclusive cost before you book - this is a totally unique feature that you will only find at Clarify.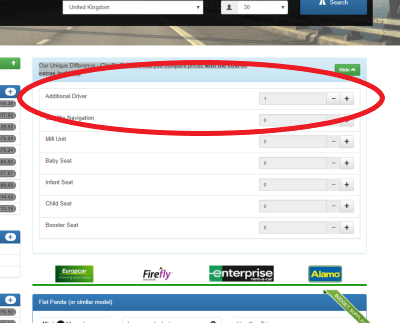 C. Next start referring to the filters to the left hand side of the page - all of which will allow you to tweak your options to improve your car rental options and make them better. The options include:
Car Size - There are two ways of choosing the best car size for your party - by Car Type or by Number of Seats - or indeed both.

Fuel Type - Depending on your requirements you can choose between Eco Friendly cars (which include Electric, LPG and Hybrids), Petrol or Diesel. This means you can select the best option for your trip. If you are planning a lot of motorway driving in France its likely that diesel will be your best option, whilst if you are planning a city based trips do consider a Eco friendly car. A useful resource for the latter is the Urban Access Regulations in Europe whilst fuel prices across Europe can be compared on the RAC European Fuel Price page.

Car Hire Company - Allows you to hone in on a preferred brand.

Fuel Policies - Most UK companies now operate on a Fair Fuel basis - which mean that you return the car with the same fuel in the tank as was there when you collected the car you can avoid paying any extra costs. This is not always the case on websites operated from outside the UK as the need to be transparent is driven by the UK Competition and Market Authority, so companies outside their jurisdiction can and do adopt different practices.

Payment Options - You get the best choice of cars if you are planning to pay by credit card, but if you do want to use a debit card you often can with Clarify. We have negotiated special packages with many rental firms which allow debit cards to be used - for more detail see our Debit Card Car Hire page.

VIP or Express Checkout - some car hire firms offer Clarify users a fast track or express checkout - try this if time is of the essence when you are collecting your car - be aware that extra charges may apply.

Deposit Amount - if you want to avoid a large preauthorisation or deposit being taken from your card then selecting a lower figure here will be the best option for you. We will then show companies who have lower deposit amounts, or packages that allow you to minimise the amount taken. Be aware that many firms will want to take a fuel deposit, in case the car is returned with less fuel than it was collected with, so a small rather than no deposit often gives the widest choice.

Excess Responsibility - A clever option with Clarify is that we allow you to opt for the excess level you think is best for you - and will add optional packages from car hire firms to achieve this. Pop in your preferred excess amount and we will filter out those cars which don't meet your crieria.

Cross Border Cars - want to travel abroad - we will show you cars than can be taken outside the country you are renting in - additional fees may apply - and if the rental firm imposes a lot of hoops you have to go through to be allowed to take the car abroad we may omit it, but we do our best to point you in the right direction here.

Transmission - Want an Automatic? You will find one in seconds when you select this filter.

Guaranteed Models - most cars are supplied by giving an example of the type of car you will get but then saying the exact make or model could be 'similar'. This means you might get a Corsa rather than a Fiesta, or a Focus rather than an Astra. Be aware that different countries see different brands as prestigious. In Italy VW is seen in the same light as Audi, in Australia Honda more sought after than BMW. This means if you are determined to have a particular car it is best to use this filter. This facility is normally quite limited as by offering this option rental companies are increasing their costs as they lose the flexibility to shuffle their pack of cars.

Car Age - Prefer a new or newish car? Select this and we can guarantee the age of your car. If we are not showing vehicles from a particular supplier it does not mean you will get an old car - merely that the supplier is not willing to guarantee that the car will be of a certain age. You can also ask when you reach the desk if there you have any choice over the vehicle you will get - car hire firms will normally do their best to keep you happy.

Location Type - An important filter if you really do not want to leave the airport terminal before signing for your car - or are certain a shuttle bus is not for you. The options may be limited by the airport design - more and more airports now locate their car rental desks outside the main terminal, so if you have any particular concerns it might be best if you call us here at Clarify to discuss your options.
Once you have considered your options you will have a great short list of possibilities and will be well on your way to finding the ultimate best car hire package for your trip.