Our Guide to Car Hire during COVID-19
Our Guide to Car Hire during COVID-19
We look into what car hire companies are doing in light of the current global crisis and how you can look to hire cars now and in the future
During these unprecedented times, we understand that car hire is not at the forefront of everyone's minds. However we do also appreciate how much holidays, trips to see family and friends and travelling means to the public. Researching for future trips can bring a moment of escape for many so we want to keep you up to date with the latest developments in the car hire industry and the steps being implemented to help limit the spread of COVID-19.
Special Measures
Many of the car hire companies on our panel have put in special measures to help keep staff and customers safe during the current crisis. This includes additional sanitising of vehicles between rentals with alcohol disinfectant to ensure cleanliness and minimise risk on the virus being passed on. Companies have also been organising their fleets to allow them to take vehicles out of circulation should they have been rented by a customer who after collecting the vehicle exhibits signs of COVID-19. A common measure put in place across all companies is sanitisation of offices and limiting the number of customers in them at any one time to allow for social distancing. We have reached out to all car hire firms on our panel and asked for any new policies or precautions they have to help with containing Coronavirus. We have also created pages for the holiday hotspots for more detailed information on what specific companies are doing, please find links for these on the right.
You will now see a filter when you run a quote on the results page, by clicking this you will only be shown cars from companies who have introduced new procedures in light of coronavirus:
You can then expand on your chosen car hire firm's measures by clicking on 'Coronavirus Special Measures' on the vehicle you are looking to hire, as shown below: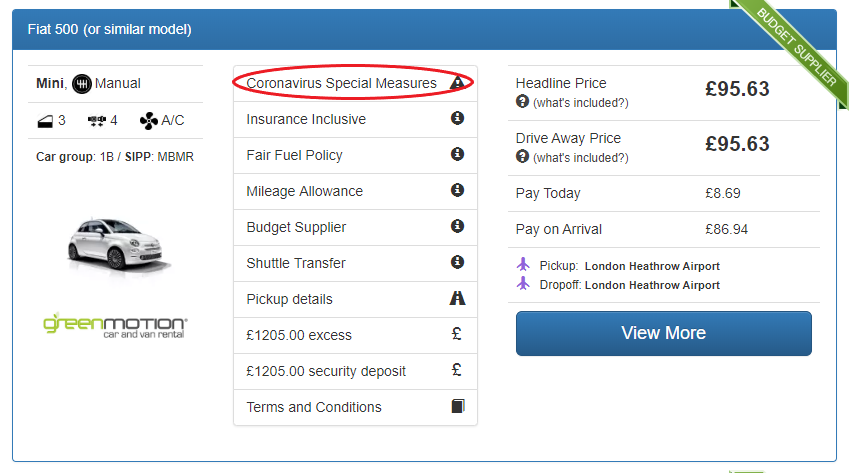 This will bring up a window to explain exactly what the car hire company is doing in response to the global pandemic: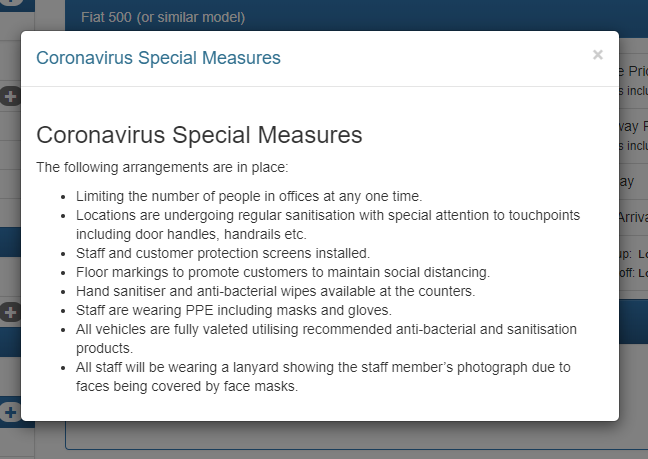 Amendments
If you have a booking with us and you would like to make an amendment, get in contact with us via our email address info@clarifycarhire.co.uk. We appreciate that this is a difficult time and will do everything we can to help you move your car hire in the most stress-free manner.
Cancellation
Similarly, if you need to cancel your booking please do let us know and we would be delighted to help. One of the benefits of using Clarify Car Hire is that we work on a pay on arrival basis meaning you will have only paid a small deposit on booking, keeping your money in your pocket until you go to physically pick up the hire vehicle.
Can I hire?
Many car hire firms in the UK are still operating and happy to hire. There is a particular emphasis on hiring to key workers who need a vehicle to reach their workplace. Internationally, there are a number of countries who have now introduced quarantine measures, often 14 days. Please take this into account when booking a car hire as all visitors will need to adhere to the rules of their destination country. Elsewhere, other companies are only hiring to key workers, for example in South Africa, and you would need to provide proof that you are one (in the country you are renting) to be able to get a vehicle. If you have any queries about hiring and where you are able to, please get in touch with us and we will be more than happy to discuss the options with you.