Debit Card Car Hire
Debit Card Car Hire in New Zealand - Plan your trip and book online instantly
Great Car Hire Deals for Debit Card Holders in New Zealand
Debit Card holders wanting to hire a car in New Zealand are welcomed by a couple of the countries leading car hire companies. Whether you are looking to tour the country for weeks on end or just want to add car hire to visit the local sights whilst staying in Auckland or Christchurch we can help.
These New Zealand companies understand that there are those who simply not not want to have a credit card and have found ways to allow such renters to hire a car without the need for a large preauthorisation.
How to find Debit Card Car Hire in New Zealand
Firstly - book as early as you can - the range of companies accepting debit cards is restricted, so early booking is all the more important. We see customers planning their trips up to a year before their visit - this approach often means much lower prices too, especially in the summer months.
Pick the car hire deal for you from a company allowing debit card use - make sure this filter to the left of our results screen is selected: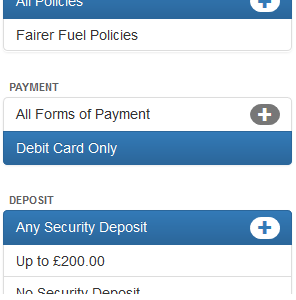 This filter leaves only results which allow a debit card to be used - so is ideal for those with no credit card.
In New Zealand it is generally the case that you will be required to buy a package which includes one of the car hire firms excess protection products if you are renting your car without a credit card. This not only protects you - but also the car hire firm as they know you are not going to be called upon for a large payment if there is damage to the car. If you use our service we will have included the cost of the extra insurance in your rates when displaying debit card car hire prices.
When booking do check the terms and conditions carefully - under the accepted cards section - and note any specific rules for debit card holders.
Give us a call here at Clarify if you have any queries, as we will be delighted to help you - or carry on and book online - it takes only a few minutes..
Sit back and relax - safe in the knowledge you have got a great deal on your car rental package.