Multi Island Car Hire In New Zealand
Multi Island Car Hire In New Zealand
Multi Island Car Hire In New Zealand
This page is specifically devoted to travelling between North and South Island in New Zealand.
One thing to consider when visiting New Zealand is whether you want to tour both the North as well as the South Island. Car hire companies in New Zealand have a range of options available for you. It may be worth considering which option is the most cost-effective and convenient for you. As experts in New Zealand Car Hire you will see that when you run a car hire quote for a New Zealand destination you are able to filter your results to different options when it comes to ferry crossings in New Zealand.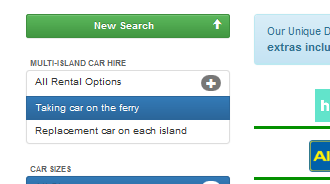 We have listed the alternatives below, but please feel free to give us a call at Clarify Car Hire if you would like further details. From hot springs to deep forests, along wide plains to the top of the mountains - enjoy all the landscape of New Zealand!
Car Hire Companies allowing Ferry Travel in New Zealand
A number of companies will allow you to take your car on the ferry between the North and South Islands. They normally restrict crossings to one or both of the main cross island ferry firms, Interislander and Bluebridge who both sail between Wellington and Picton.
The advantage of taking the car on the ferry is that it saves the hassle of loading and unloading your car when you reach the port. You can book your journeys online using the websites above.
Car Hire Companies Offering a New Car on Each Island
Some car hire companies will offer you a new car on each island - this means you drop the car off in either Wellington or Picton, hop on the ferry with your suitcases as a foot passenger, and the firm will arrange to meet you at your arrival port with a new car. It's slightly more hassle, but saves you the ferry ticket for the car and, as the car hire company don't have to repatriate the car at a later date, one way car hires in particular can be cheaper.
Unless you already have a firm idea of where you want to go, why not explore your options online?
Whichever way you travel between the islands you have a treat in store - the journey is one of the great ferry journeys of the world (assuming the weather is as it is in this video!)