Bordeaux Airport Car Hire with a Additional Driver Included
Bordeaux Airport Car Hire with a Additional Driver Included in Bordeaux Airport
The best way to add an extra driver to your car hire package in Bordeaux Airport
Free Additional Drivers offered in Bordeaux Airport*
Using Clarify is the simplest way to find the best car hire deals in Bordeaux with an additional driver already priced into the rate.
Whilst many people often assume that a free additional driver being included in the rate will produce the lowest priced package this is actually often far from the truth.
With the cost of an additional drive ranging from under £4 a day to over £10 its best not to back any assumptions when it comes to finding the price of Additional Driver Car Hire.
Through Clarify the process is as simple as this.
Run your car hire quote at Bordeaux Airport for your required dates.
Once the results appear click on the link at the top of the screen and add the number of extra drivers you need. Please be aware that some companies will only allow one extra driver so adding more that this might restrict your choice.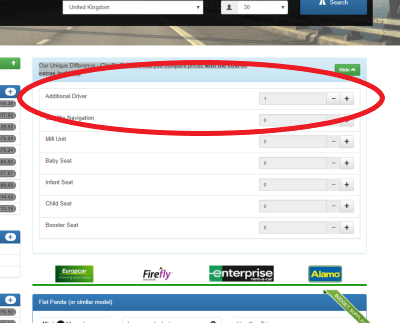 This will increase all the prices to include the price of an additional driver. If a company is offering a free additional driver obviously the price will not change - but for all others it will.
If an extra driver is included at no extra cost we will clearly display 'Free Additional Driver' in the feature box.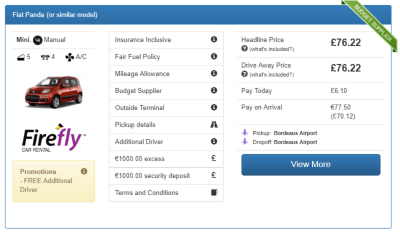 So now you have all the information you need to grab the best deal for your trip