Zero Deposit Car Hire - Find the best car hire for your needs
Zero Deposit Car Hire - Find the best car hire for your needs
Are you looking for car hire where you don't have to leave a large deposit on your credit card when you pick up the car?
It is often not ideal for everyone to leave a deposit when hiring a car. Most car rental companies will expect you to leave a security deposit on your credit card when you arrive at your destination to pick up your car. But for some people that can present a problem and others just feel very uncomfortable about having such a large amount blocked on their card.
Clarify Car Hire can help you find car hire where no security deposit is needed. Please bear in mind though that the car hire company will probably want to hold an amount equivalent to any rental costs due to them, and hold an amount equivalent to the value of the fuel in the car. If you have hired extras such as GPS devices or child seats they may also hold an amount for these until they are safely returned. You can always check this when reading the car hire company's terms and conditions in this respect.
We offer no deposit car rentals in many locations worldwide. Use the form above to find car rentals with no deposit in your chosen location, or you can find this feature listed, if available, on our destination pages. Click on the link, as shown below, to find the latest prices.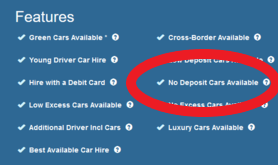 How do I run a quote for car hire without a deposit?
We make it very easy to find the best car hire for your needs - whether that is no deposit, low deposit, no excess or payment with a debit card.
Use the form at the top of the Clarify Car Hire homepage to find quotes for your car hire. Once the results are shown, you can use the filter on the left hand side to find those car rental quotes which do not include leaving a security deposit when you pick up your car.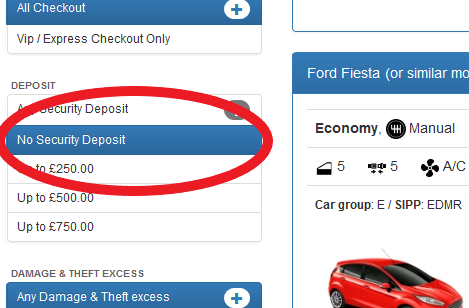 How does no deposit car hire work?
Our video below shows just how easy it is to find no deposit car hire and what it means for your car rental. And the good news is that, if you are still unsure and would like some further help, the friendly staff at Clarify Car Hire are just a phone call away.