How can I use my Clarify Car Hire Voucher code?
How to use your save up to £50 Clarify Car Voucher
Run a quote for your car hire above - if you would like to keep these instructions open in a separate tab click on the link below to open a duplicated copy of this page:
How to use my 'Save up to £50 Clarify Car Hire' Voucher
Having run your quotation find the car you feel is best for your trip. Using your voucher you will save 50% of the Pay Today price up to a maximum of £50, and enable you to benefit from our unique Covid cancellation guarantee which allows you to cancel right up to the minute you are due to collect your car and still get a full refund.
Full details, terms and conditions are shown at the foot of this page.
Using the example below you would save £27.86, which is 50% off the Pay Today price of £55.72. Your car hire will therefore cost £456.51. The saving is in addition to any discounted rates or special offers we have negotiated with the rental firm.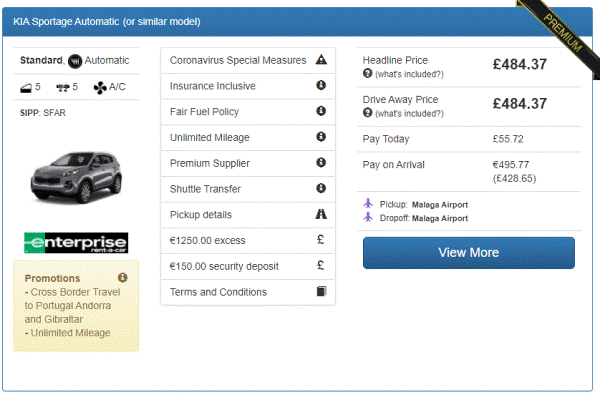 When you have chosen your car progress through the booking process until you reach the payment page. On that page input your voucher code as shown below. This will reduce the amount you are due to pay today by debit or credit card.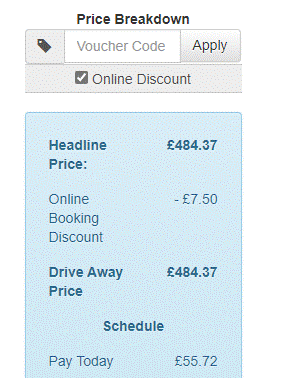 Book and pay for your car and within a few minutes you will receive your booking voucher and be ready to pick your car up from your chosen supplier.
If you have any queries please contact our administration team here at Clarify - we will be delighted to help.
Terms and Conditions
The voucher code issued is personal to the owner of the email address to which it is delivered. It is valid for 60 days from the date of issue.
The voucher offers a 50% discount of the 'Pay today' deposit payable on a booking made through Clarify Car Hire up to a maximum saving of £50.
If a booking made using a voucher is cancelled only the cash element paid will be refunded. A new voucher will not be automatically issued, although should a revised booking be made, a new voucher may be issued at the discretion of Clarify Car Hire.
The voucher has no cash value.
The voucher cannot be used to pay for any additional products, including excess insurance.
Any bookings made using a voucher code that was created as part of the MoneyMaxim Car Hire Excess Insurance Promotion will also benefit from our unique Covid Cancellation policy. This entitles you to a refund should any of the following occur:
You or a travel companion receive a positive result from a pre-departure COVID test which consequently prevents you from travelling.
You or a travel companion have to self-isolate and therefore cannot travel.
Your destination moves from the Green list to the Amber list or from the Amber list to the Red list under the UK Government's traffic light travel system.
Car Hire Voucher