Car Hire with a Free Additional Driver Included
Car Hire with a Free Additional Driver Included
Car Hire Including Additional Drivers
Adding an extra driver to your car hire deal can be a painful process.
Do you just go with a company which offers a free extra driver - without really knowing if their over all cost is better than hiring another car and paying for the additional driver separately?
Or do you get out your calculator and start working out the total price of car and extra driver?
Well now there is an easy answer.
Additional Driver Prices can be added to every Car Hire Price - with One Click
Run a quote with Clarify and add an additional driver to the options at the top of the page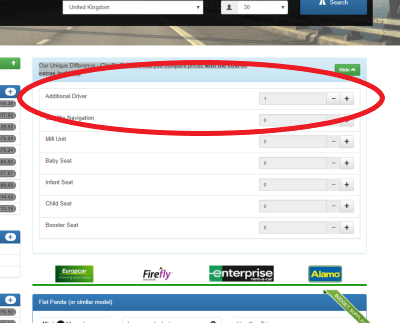 We will then add the cost to every car displayed - so you can seen whether which is the best for your.
You can quickly see whether a free extra driver with a more expensive company is better value than going for a cheap car hire company who charge for extra drivers.
Its simple, easy and quick - and is by far the best way to get additional drivers included in your rental.