5 Reasons To Choose Greece For Your Next Holiday
5 Reasons To Choose Greece For Your Next Holiday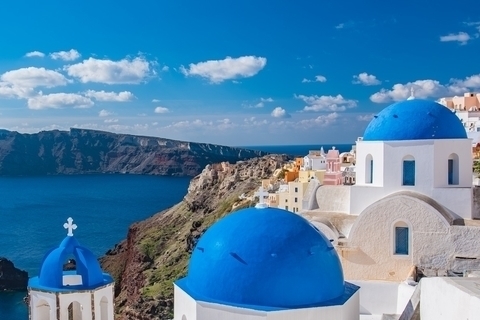 Add car hire and experience Greece's many treasures
Are you looking for inspiration for your next holiday? If you haven't visited Greece before, we can give you 5 good reasons why it could be the perfect destination for you in 2018.
1.The beaches – We start with the very obvious but do you know just how many beaches there are in Greece? No? Neither do we but with nearly 16,000km of coastline, you will never be far from one. Choose from sandy dunes or pebbled shores, rocky outcrops or sheltered coves. You can find quiet stretches or beaches with all the facilities you could possibly want.
2.The food – Eating is a leisure activity in Greece. Families and friends bond together over long lunches. Pair the relatively healthy grilled meat and fish dishes with the positively sinful Baklava, a sweet honey pastry. Try the local cheeses and the glorious olives. Or stop at a local kafenion for a coffee and watch the world go by.
3.The history – Greece is full of it and sometimes it can be difficult to get your head around just how old some monuments are. In Athens alone you will find both the Acropolis and the Temple of Hephaestus which date from the 5th century BC. The tiny island of Delos has a temple dating back even further, to the 7th century BC.
4.The excitement – If you like a more active holiday then there is plenty of opportunity to push yourself. Windsurfing in Rhodes, rock climbing in Kalymnos, sea kayaking off Kefalonia, cycling in Crete or a trek up Mount Olympus – Greece is packed with adventure. You can even go skydiving if you dare!
5.The simplicity – Most flights to Greece are about 4 hours or less and there are flights leaving from airports all over the UK. The currency is the euro and many of the locals speak English – although they do appreciate efforts by travellers to speak Greek. And for car rental? Try Clarify Car Hire and we will make adding your own transport very easy.
Clarify Car Hire offers car rental in Greece in numerous different locations including many of the islands. Our fantastic filtering system means you can find just the hire car you want for your trip. Select from mini-sized cars up to luxury models or SUVs. Find fair fuel and unlimited mileage deals and choose between budget and premier suppliers.
Discover car hire with a clear difference - we show the full price of your car hire including any extras you have chosen.
Recent Blogs