Want to talk to the experts about Costa Rica car hire?
Want to talk to the experts about Costa Rica car hire?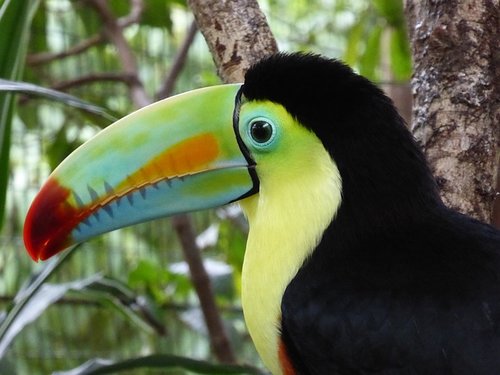 We guide you through everything that is unique about car rental in Costa Rica
Costa Rica is becoming increasingly popular as a tourist destination and it is easy to see why. With colourful and abundant wildlife, and a diverse and fascinating landscape it has something to appeal to all. And let's not forget that it's considered the happiest country on earth!
If you are visiting Costa Rica, car rental is essential. Away from the capital, San Jose, public transport is scarce. With tourist attractions spread throughout the country, car hire in Costa Rica is the best way to get around.
Clarify Car Hire are experts in car rental in Costa Rica. There are some unique differences with Costa Rican car hire which mean it is important to do your homework before you reach the rental desk. Our special filters allow you to build the car hire you need and make us the go-to site if you are planning a trip to this beautiful country. Get a quote for San Jose International Airport Car Hire today.
Our quick guide to Costa Rica Car Hire
Third Party Excess
Unlike most countries around the world, several rental companies in Costa Rica charge an excess on your third party insurance – usually you would only expect an excess on the Collision Damage Waiver and the Theft Protection parts of your car hire insurance. The third party excesses can be up to 20% of the total cost of any third party damage - with no upper limit in place!
A special filter available with Clarify Car Hire (seen below) can give you peace of mind knowing that your car hire company does not come with a third party excess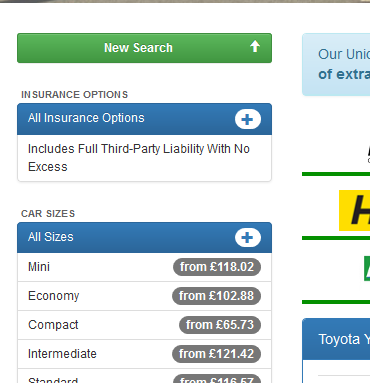 Carbon Fees
Costa Rica aspires to be carbon neutral by 2021. Companies in the country are taxed to compensate for their carbon emissions. Car hire companies have occasionally passed this cost on to their customers.
Clarify's response is to make prices clear. Any fees levied by the company will be shown in your price. You will know if you are paying for this carbon offset charge.
Taxes
Prices are sometimes quoted without VAT (known in Costa Rica as Impuesto de Ventas) so - especially if it looks like a deal to good to be true – make sure you know whether the tax has been included.
Clarify Car Hire prices will always include all taxes and fees. We want our customers to be sure of the cost of their car hire with no hidden charges.
Driving Conditions
The road conditions in Costa Rica are varied. In the cities you will find smooth, well- maintained roads whereas in the more remote rural areas many of the roads are barely more than a track. It is not unusual to suffer chipped windscreens and punctures on the rural roads as they are often affected by erosion and flooding.
When you run a quote with Clarify Car Hire you can opt to include insurance to cover the windscreen and tyres. This can either be bought at the car hire desk or by using a third party policy.
Road signs.
Particularly when you are driving in the remote areas of Costa Rica, you can find signposts are few and far between. A GPS is the ideal solution to keep you on track with your hire car.
Any prices quoted on Clarify Car Hire will include any extras such as a GPS that you choose to add. If you usually use Google maps to get you around, remember data roaming charges can mount up, and the internet connection in some parts of Costa Rica can be unpredictable. An alternative navigational aid is to download the Waze app on your phone before you leave. This app gives you up to date information. Our tip? If you save maps on Google or the Waze app, you will still be able to use them if the internet goes down and save on data charges.
So - if you are searching for car hire in Costa Rica – let the experts here at Clarify Car Hire be your guide.
If you need further assistance with your car hire then our customer service team are on hand to help. Use our online chat facility available at the bottom of the screen on our website, or call us on 0330 222 0369
Recent Blogs