We make hiring a car with a debit card easy!
We make hiring a car with a debit card easy!
Not everyone has access to a credit card and it can be very frustrating to find no credit card can put car hire with some companies out of reach. The high excess levels may also be a problem if you have a lower limit on your credit card. This is because the car hire companies want to block the excess on your card often leaving you with not enough funds for your holiday spending.
Clarify Car Hire can help you find debit card car hire
We provide debit card car hire at many locations and we are always adding more and more to the list. Run a quote for your chosen destination and, once the results are shown, use the payment filter down the left-hand side to select 'Debit Card Only'.
Your results will then show companies that can offer you car hire packages tailored for debit card holders.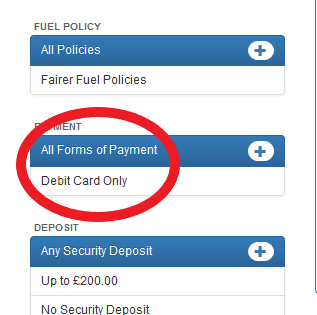 Looking to find a great deal on debit card car hire?
We can show you the latest prices for renting a car with a debit card at your location. Just select the airport from our destination guide at the top of the page and then click on 'Hire with a Debit Card' from the Features box. See at a glance the lowest prices you could be paying for different sized cars at your location. Debit Card Car Hire at Malaga Airport for example shows that today's prices for a compact car start at just £13 per day. Prices change daily.
We currently offer car hire using a debit card in various locations in the UK, Italy, Spain, Portugal, Germany and France. Should you need car hire without a credit card try Clarify Car Hire – More car hire companies and destinations will be joining our site soon.
Our guide to debit card car hire gives you all the information you need but if you have any more questions regarding hiring a car without a credit card please call our friendly customer service team on 0330 222 0369 or contact us via our online chat service.
Published 15.01.19
Recent Blogs