Searching for the best car hire for your next trip?
Searching for the best car hire for your next trip?
Use the unique tailoring system from Clarify Car Hire to find the ideal car hire package for your needs
Your holiday is important to you. You wouldn't book a hotel without checking whether it had a pool or reserve a villa without making sure there were enough rooms for everyone to sleep in. So why would you take any risks with your hire car? Clarify Car Hire takes the guesswork out of renting a car. With more filters than any other broker we can help you find the best car hire for your trip.
There are many factors which can affect what car hire package is best for your individual needs. With Clarify Car Hire you can tailor your car hire quote to find the ideal rental car for you. In addition, we clearly show you the cost of your car hire so there will be no surprises there either!
How we can help you put together the best car hire for you?
The Car
What size car will you need? Sizes range from mini such as a Fiat 500 through to MPVs. You can also opt for a luxury vehicle if you are looking for something a bit special.

How many people are travelling? Making sure there are enough seats for all your passengers is crucial. You may want extra seats if you have to fit larger children's seats in.

Do you want a particular type of fuel? The importance of this filter may depend on how many miles you are travelling with your rental car and in which country you are renting.

Would you prefer a manual or an automatic? Many people would rather hire a car with a transmission that they are familiar with. Being able to choose can take away the worry.

Do you want to know exactly which model hire car you will be driving? Clarify Car Hire can filter for guaranteed models. Find the make and model you will be driving on your trip.
The Car Hire Company
Looking to hire with a particular company? If you have had a great experience with a car rental company in the past, you may want to book with them again. It is, however, always worth considering other companies too.

Do you want a premium brand car hire? If you want to consider other companies who offer a service level similar to one you have used before, or just want to ensure you are provided with a service you are comfortable with then choose between premium, mid-range or budget suppliers.

Want to avoid a shuttle bus? In many locations there is the you can decide between on or off-airport suppliers. Tick the relevant filter if you want to find any companies who do not require you to take a bus to collect your car.

In a hurry? Some suppliers can offer an Express Check out service at their desks. Skip the queues and get away faster with their VIP service.
The Price
Do you need to pay for car hire with a debit card? It can be trickier to find car when you don't have a credit card. Not with Clarify Car Hire. Our filter will show you all the packages that are available to you if you need to book car hire with a debit card.

Don't pay more for fuel than you need By selecting the fair fuel policy filter you can make sure that you are only paying for the fuel that you actually use on your trip. A much fairer system!

Would you rather leave a lower security deposit at the car hire desk? Set the level of security deposit to one that you are happy with -including no deposit at all! – and only car hire with a deposit at that level will be shown.

Worried about the excess? You can also set your excess level to one that doesn't get your heart racing! Often lowering the excess can increase the price of your car hire so worth considering an excess reimbursement policy as an alternative if you want to make sure that you will not be left out of pocket.

How many miles will you be travelling? If you are only using the car to get from the airport to your accommodation and back you may want to consider limited mileage car hire. These can work out cheaper but - beware – any miles you go over your limit can be charged at a high rate.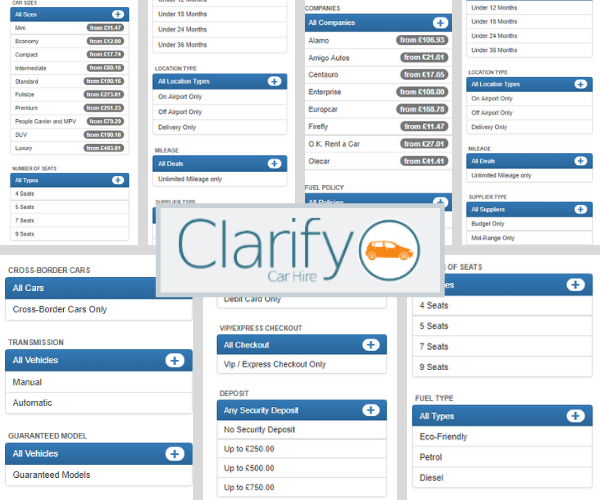 When you are running a quote for a rental car through Clarify Car Hire it is so simple to alter your quote if you can't find what you are looking for. By altering your choices using our filters, the results will automatically change to show your new quotes. What could be easier?
Your quote will not just show you the price but also details about the insurance options, car hire company, the pick-up location as well as easy access to the terms and conditions of the hire so you can be sure of how your car hire will work before parting with a penny. Add your extras to your quote too. With child seats charged at very different prices, sometimes the extras can make a difference to the company you choose.
We are always looking to make our car hire as clear and straightforward as possible. If you need any assistance or have any suggestions on how we can help further then please get in touch with our customer service team on 0330 222 00369. We look forward to helping you find the best car hire for your next trip.
Recent Blogs