Weird and Wonderful Road Rules and Signs
Weird and Wonderful Road Rules and Signs
We love a quirky fact here and some of the rules surrounding cars and driving abroad are pretty fascinating. We've come up with a list of our favourites here:
You are not allowed to sound your horn in Vienna or near hospitals in Austria.
If you need to wear glasses when you drive in Spain you are required to carry a spare pair by law.
You are not allowed to wash your car on a Sunday in Switzerland. A similar law exists in Germany but only in the morning.
You are not allowed to eat or drink whilst driving a car in Cyprus and can be fined if you are caught doing so.
In some cities in Russia you can be fined if your car is too dirty.
In Croatia you must carry a shovel in your car in winter.
In Australia you are banned from sticking a limb out of a window unless you are signalling to another driver.
In Greece if your car is parked illegally Police can confiscate your number plate. It is also illegal to smoke whilst driving there.
Make sure you fill up your car before going on the autobahn in Germany as it is illegal to run out of fuel on Germany's highway system (or to stop on the autobahn for any other reason for that matter).
If you are in Portugal and are unlucky enough to be issued with an on-the-spot fine, you don't need to worry about not having enough cash to pay – most traffic Police vehicles actually carry a portable ATM machine!
Finally, we love this sign at Table Mountain Park: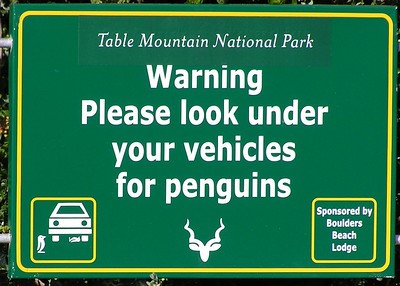 Picture credit: https://tinyurl.com/2p8cbtyx
So that's a round up of some of the 'interesting' and actually quite sensible driving related rules from around the world!
It is well worth familiarising yourself with the rules of the road in the country you are visiting to make for a smoother trip. For up to date information and advice on driving in Europe the AA has a good library of information listed country-by-country here as does the RAC here.
Safe travels and watch out for those penguins!
Recent Blogs