Will you be taking your rental car on a toll road in Portugal?
Will you be taking your rental car on a toll road in Portugal?
We explain all you need to know about using a transponder with your car hire in Portugal
At Clarify Car Hire we aim to make customers aware of all costs involved with their car hire and, for this reason, we have introduced a brand new filter for car hire in Portugal.
Around 90% of those hiring a car in Portugal will need a transponder. They can be rented through your car hire company but the fees for this service are often not clear. By using the Clarify Car Hire filter to select 'Transponder Toll Service Included' you can compare quotes which incorporate fees for the hire of the device.
Select Transponder Toll Service Included...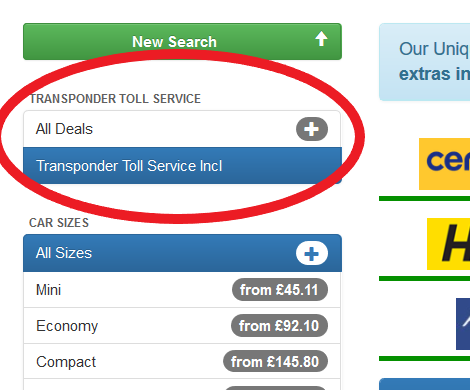 And your results will only show car hire quotes with the cost of transponder hire included.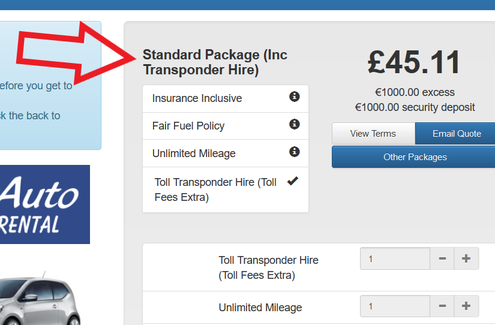 Please note that toll charges will be added after your car hire has ended.
What is a transponder?
A transponder is a device fitted to the car that allows you to travel on the toll roads in Portugal without having pay at a booth, or at a post office before you leave. The transponder will register when you drive on to either an Electronic Toll Road or a Via Verde lane. The device is normally located in the centre of your windscreen.
Why would I need a transponder?
Many of the major routes through Portugal are toll roads. If you plan to do more than stay in your local area then you will more than likely find you will need one. For example, the A1 between Lisbon and Porto is a toll road.
How do the transponder charges work?
You will be charged for the rental of the device and for your use of the toll roads. Each time you pass under a gantry on the toll roads, the transponder will record your movements. Any charges you incur will be registered and you will pay these on your return to the car hire desk. It takes 48 hours for toll fees to go through so, if you use a toll road in the last couple of days of your hire, these may well be charged to your credit card after your return.
Recent Blogs