Winter Tyre and Snow Chain on Rental Cars - A 2022 Update
Every year a different European Government changes the rules when it comes to winter tyre and snow chain rules. There was the year the Germans made winter tyres mandatory - the year Italy created different zones with different rules - and this year its the turn of the French.
The idea behind the new rules is to improve road safety by reducing the risks associated with driving on snowy or icy roads. Hopefully it will also cut both accidents and the resultant congestion on mountain roads, where poorly equipped cars end up blocking roads causing long delays.
Anyone who regularly drives in ski or snowboarding country will almost certainly have seen ill equipped drivers fishtailing their way up even slight inclines - and this is the behaviour that the French want to outlaw.
What are the French Winter Driving Rules from This Year
The rules that have been introduced are not simple!
In the past France mandated that snow chains did not have to be carried in certain areas or below certain altitudes - however from this year attitudes are hardening. Whilst the government say that in this transition year there will be no penalties if the right Mountain Law equipment is not on board if there is an accident then the driver will be held responsible for it - and potentially the car insurance policy will be invalid - so basically drivers need to be very careful if they decide to go without.
Additionally whilst the french authorities have said that 48 departments are covered under the law many local authorities have decided that no winter equipment needs t be carried in their area. We said it was not simple.
Europcar have created this graphic in a bid to explain the current situation: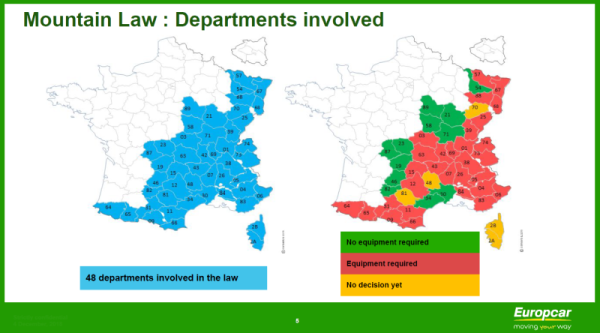 Can I get Winter Tyres in France
Rather like Italy France are not insisting on Winter Tyres though - although we do now have providers in the country that will offer them.
Clarify has a really useful filter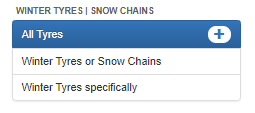 which allows you to select the winter equipment you prefer.
Recent Blogs