We're experts in New Zealand car hire!
We're experts in New Zealand car hire!

---
Renting a car is a popular way to explore the islands that make up the beautiful country of New Zealand. It gives you the opportunity to amend your plans as you travel and the freedom to explore off the beaten track to stunning locations not covered by public transport.
There are a couple of things to consider if you do hire a car in New Zealand.
• You should be aware that the weather in New Zealand can be changeable and this can affect driving conditions. It has been said that you can sometimes experience 4 seasons in one day!
• It is worth noting that there are few motorways outside of the cities and the majority of roads are single track. Roads can be narrow, steep and winding so caution is required.
• You are not allowed to take a rental car on all of the roads in New Zealand - check your agreement to see whether there are any restrictions on roads you can travel on. Some roads considered to be too narrow or dangerous and some gravel roads may be excluded. Driving on these roads against the advice of your hire car company would invalidate your insurance should any damage occur.
• Finally distances on maps can be deceptive due to the nature of the terrain. Journeys may well take longer than you'd think so make sure to factor in some breaks!
Traveling between Islands in New Zealand?
At Clarify Car Hire we can help tailor your car hire to suit your travels. We specialise in helping you with your multi-island trip by providing a unique filter on the Clarify Car Hire page.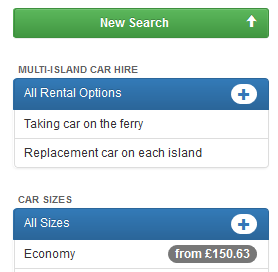 Simply select whether you would like to search for a hire car that allows you to take the vehicle on a ferry or whether you'd like to travel as a foot passenger on-board and pick up a replacement car on each island. Car hire deals will then be shown that match your requirements, and don't forget that if you have any queries you can contact us.
Debit Card Car Hire in New Zealand
If you don't have a credit card why not consider debit card car hire. We have a number of suppliers who offer this as an option. If you wish to search for debit card car hire you can do so on Clarify by selecting the debit card filter on the left hand side of the results screen.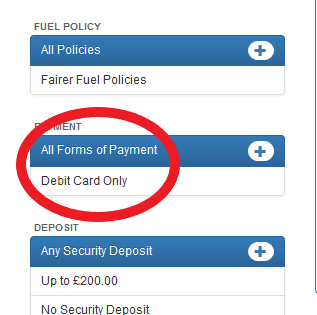 For more information about debit card car hire please click here.
Low Deposit Car Hire
If the security deposit the car hire company wants to put on your credit card makes you feel uncomfortable we even have filters allowing you to opt for a smaller deposit.
One way travel is a popular choice when exploring New Zealand. Perhaps you're flying into Auckland in the North Island and travelling cross country and returning from Christchurch in the South Island. With Clarify you can compare one-way car hire with the cost of any fees for this included.
We currently have a number of offers from our partners in New Zealand:
• Hitch are offering a free additional driver and unlimited mileage
• Thrifty are offering a free additional driver
• Aero Drive are offering up to 2 additional drivers (25yrs+)
• Go Rental are offering a free GO Play discount card which unlocks 200+ discounted activity and accommodation options around NZ. They are also offering a free additional driver and unlimited mileage too.
Let Clarify Car Hire help you in your travel plans and see New Zealand your way!
Recent Blogs