The Best Things To Do In New Zealand's North And South Islands
The Best Things To Do In New Zealand's North And South Islands
We help you find the ideal way to spend your holiday in New Zealand
For a relatively small country, New Zealand packs in an awful lot. There are several international airports in New Zealand. Many long distance flights land at Auckland but there are also airports in Wellington, Christchurch and Queenstown. Clarify can offer car hire in all four of these airports.
New Zealand is made up of two principal islands, North and South Islands as well as some 600 small islands. The North Island has 3 times the population size of South Island yet is roughly 15,000 square miles smaller. This may make it seem 'crowded' but, compared with where most of us live, it really isn't. Most visitors will choose to visit these larger two islands but deciding how much time to spend on each can be tricky so here we outline some of the key features to try and help you out.
Resources
North Island
Things To Do On North Island New Zealand
South Island
11 must do experiences on South Island
Beaches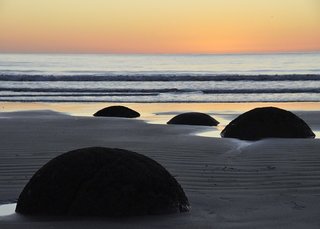 The slightly warmer climate on the North Island can make their beaches more appealing and they have plenty on offer. There are some popular beaches which have more facilities but may, therefore, be busier but also some more remote locations where you could find yourselves one of only a handful there. If you prefer the former then Mission Bay, which is one of the beaches nearest to the centre of Auckland, may appeal. For more secluded beaches try Tawharanui or Henderson Bay in the far north. For quirky check out Hot Water Beach in the Coromandel where you can dig your own hot water pool as the tide goes out.
The beaches on South Island are equally beautiful but are probably more about the surrounding scenery than lazing about on the sand. Moeraki Beach, just an hour's drive up the coast from Dunedin, is best seen at low tide when the perfectly round boulders which look like huge cannonballs wedged in the sand are the most visible. Wharariki Beach also has unusual rock formations although these are out to sea. This beach is only reached via a 20 minute walk down a track.
Scenery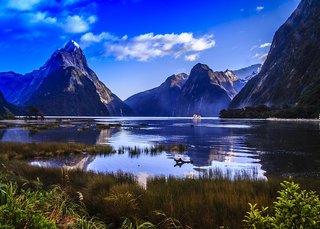 South Island is home to nine of New Zealand's national parks. Its spectacular landscape includes striking mountains, dramatic valleys, sweeping forests and impressive waterfalls. Take a boat trip through Milford Sound to immerse yourself in this breathtaking setting. If you would rather be up the mountains than among them, then Mount Aspiring National Park offers some amazing hiking and mountaineering opportunities to suit most levels.
Volcanoes have determined much of North Island's features. Wai-O-Tapu is a geothermal spectacle. Mudpools such as the Champagne Pool are definitely not for dipping your toes in. The acid in them causes them to bubble. Enjoy the geysers too. The impressive Lady Knox Geyser can erupt up to 20m high. There are plenty of walks through the Rotorua and Taupo region where you can see geothermal activity including hot springs and even a hot-water waterfall.
Wildlife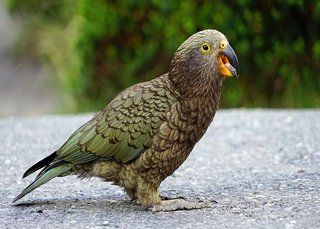 For the biggest variety of wildlife and for more opportunities to see some of New Zealand's native species then really you need to head for South Island. Penguins are always popular and there are several species to be found here. The Banks peninsula near Christchurch is home to colonies of Little Blue penguins and you can also see pods of Hector's dolphins, the world's smallest species, in Akaroa harbour nearby. Travel north from Christchurch to the Kaikoura peninsula to see the protected New Zealand fur seals. To the south is Oamaru with its Yellow-eyed penguins and closer to Dunedin, on the shores of the Otago peninsula you can spot the Hooker's Sea Lion. At the far north tip of South Island, the Marlborough Sounds are a fantastic location to spot penguins, dolphins, seals and whales. All over New Zealand are many species of birds including the native Robin, the gorgeous New Zealand Fantail and the world's only alpine parrot, the Kea.
Culture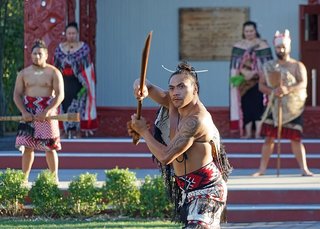 Where South Island may edge ahead with wildlife, North Island probably just noses in front on culture and that is mainly because it is far richer in Maori heritage especially in Rotorua. Wellington is home to the Te Papa Tongarewa (the National Museum of New Zealand), a great starting point. In the Bay of Islands you will find the Waitangi Treaty Grounds where New Zealand's founding document was signed between the Maori people and the Europeans in 1840. It has many displays including a cultural performance. You can also take part in Maori walking tours or stay overnight in a Marae. Both Islands have some beautiful cities. The larger two, Auckland and Wellington are on North Island so provide a wealth of opportunities, however Christchurch and Queenstown in South Island are both worth spending time in.
Activities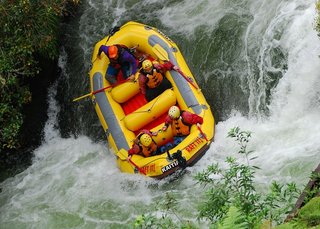 New Zealand is a wonderland for the more daring travellers. Whether you like speed, heights or just the thrills there is something for everyone. Queenstown on South Island is known as the 'Adventure Capital of the World' because most activities are available there but there is so much to experience all over the country. Try skydiving, ziplining or jet boating. You can bungy jump off the Auckland Harbour Bridge or brave the highest bungy in New Zealand off the top of the Nevis in Queenstown. There are white water rafting trips from Grade 1 through to Grade 5. Have a go at caving at Waitomo Caves, check out canyoning in Coromandel or zorbing in Rotorua. Off-road driving takes place in numerous locations. You can even take on the sand dunes on Ninety Mile Beach in Northland. Please bear in mind that you should not drive off-road in your hire car. Most rental companies have restrictions on the roads you can drive on in New Zealand. If you want to get active but fancy something a little less daredevil then you can take your pick from experiences like hiking, cycling and skiing as well as many water-based activities such as surfing and snorkelling.
Ferries run regularly between Wellington on North Island and Picton on South Island across the Cook Strait. The journey takes just over three hours and is a chance to see some breathtaking scenery. With Clarify you can tailor your car hire to include a ferry crossing. You can opt to either take your hire car on the ferry or choose to collect a new car on the other island. Clarify can also help young drivers wanting to hire in New Zealand.
Recent Blogs