Our Top Ten Tips for Car Hire in New Zealand
Our Top Ten Tips for Car Hire in New Zealand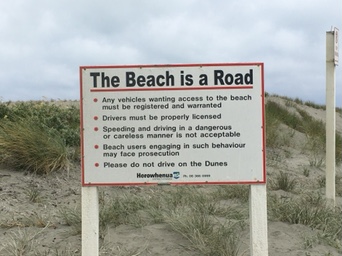 Hiring a car in New Zealand for the first time? We offer a few handy pointers.
Book in advance – You are more likely to get a better deal and get the car hire you need if you book your car hire before you go. As supplies of rental cars go down, the prices tend to rise and the choice of vehicles can also be more restricted. At the desk prices are often much higher.

Look out for unlimited mileage deals – New Zealand is one of those countries where you can easily add on extra miles to your planned trip. Signs off the main roads can tempt you into exploring hidden treasures – cafes, farms, artists' studios. Don't be restricted by your mileage!

Good news! They drive on the left in New Zealand so although you are driving in a foreign country, it will not feel quite as strange as driving in continental Europe where you have to get to grips with driving on the right. As with all car hire, it is a great idea to familiarise yourself with local driving rules before you go.

There are just a few toll roads in New Zealand – all in the North Island. You can easily pay for New Zealand toll roads online and signs along the roads will explain how. You just need the licence plate and your credit or debit card. All the toll roads cost between $1.90 and £2.40 for a standard car.

The roads in New Zealand are slow. Even the major routes are mostly just single carriageway with the occasional passing lane. Leave plenty of time for any journeys as, if you are behind slow moving traffic, you may be there a while. Don't worry though as you will have more opportunity to savour the fantastic views while you are driving.

New Zealand does not have motorway service stations as you may be used to in the UK. Fuel stations may be away from the road so make note of where your next one is so you don't run too low. And, if you want something to eat, keep an eye out for the information signs as many will direct you to cafes that offer delicious home cooked food!

Your car may be provided with a GPS but it is definitely worth having a phone with a map facility too. Roadworks can often mean a road is closed and the suggested alternative route may not be the best for you. A phone with a compatible charger is therefore essential too.

In New Zealand it is not uncommon to find beaches which are considered public roads. However, this does not mean you should drive your hire car on it. Many rental companies will not allow their cars to be driven on a beach (even if the locals do) – they restrict driving to 'sealed' or 'well-maintained' roads. If you drive outside the terms and conditions of your car hire, your insurance will be invalid.

If you are spending time in a city such as Auckland before setting off on your road trip, consider a pick-up location within the city. This can not only save you on a couple of days hire charges but also possibly parking costs in the city. Clarify Car Hire can offer various pick-up locations in most cities.

Consider additional insurance. Your rental vehicle is likely to come with the main insurances of collision damage waiver, theft protection and third party. Excess reimbursement policies are available via Clarify Car Hire which enable you to reclaim the excess should you have an incident and be charged. They also cover the glass elements, wheels, tyres, roof and underbody. You can also often opt for a rental package which reduces your excess liability.
Recent Blogs