Are there mileage restrictions on my car hire?
Are there mileage restrictions on my car hire?
Most cars supplied through Clarify Car Hire are on an unlimited mileage basis, but in order to give you as much choice as possible we will offer cars that have mileage restrictions as, for those able to keep within them, these can offer great value.
Unlimited mileage means you are not restricted to any mileage limits whilst you are renting the car.
Limited mileage deals mean, for instance, you would be charged extra if you exceeded the stipulated limits of say 100 or 150 miles a day.
If you rented a car with a 150 miles per day limit for 7 days that means you can drive up to 1050 miles during the week - so you could drive 300 miles to and from your destination and still have 450 for additional use whilst there.
Some companies also stipulate additional limits if you are taking the car to other countries (cross border) - these will be detailed if you click on the 'View Terms' button when reviewing any potential car.
You can now search for car hire with unlimited mileage using our mileage filter on the left hand side of the results screen. You can leave it as the default to show all deals or select 'unlimited mileage only' to show only those car hire deals.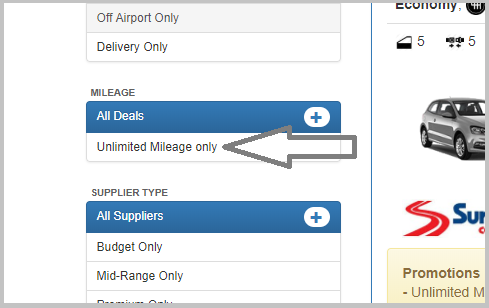 Car Hire Supplier Queries